4 cups (1 liter) elbow macaroni
5 tablespoons (45 milliliters) unsalted butter
4 cups (1 liter) milk
1/2 cup (125 milliliters) chopped onion
4 cloves garlic, minced
1 bay leaf
3 fresh thyme
1 teaspoon (5 milliliters) ground mustard
1/2 cup (125 milliliters) Cholula® Original Hot Sauce
2 tablespoons (30 milliliters) all-purpose flour
1 cup (250 milliliters) grated Cheddar cheese
1 cup (250 milliliters) grated Gruyere cheese
1 cup (250 milliliters) grated Fontina cheese
1/2 cup (125 milliliters) grated Parmesan cheese
Kosher salt and freshly ground black pepper
INSTRUCTIONS
1

Cook macaroni as directed on package for al denta pasta. Drain well. Toss with 2 tablespoons (30 milliliters) of the butter; set aside.

2

Preheat oven to 350°F (180°C). Grease 13x9-inch (33x23-cm) baking dish with 1 tablespoon (15 mL) of the remaining butter; set aside.

3

Place milk in medium saucepan. Add onion, garlic, bay leaf, thyme and mustard. Heat on medium-low heat until the milk starts to steam, about 10 minutes. Remove from the heat; set aside.

4

Melt 2 tablespoons (30 mL) butter on medium heat in separate large saucepan. Sprinkle in flour. Cook and stir 2 - 3 minutes, just until well blended and bubbly.

5

Strain milk mixture through fine sieve into large saucepan with flour mixture, whisking constantly to break up any lumps. Stir in Original Hot Sauce. Cook, stirring frequently 5 minutes or until mixutre is thickened. Remove from heat. Stir in half of the cheeses until melted and smooth. Add salt and pepper to taste. Add macaroni and all but 1 cup (250 mL) of the remaining cheese, stirring to mix. Trtanfer to prepared baking dish.

6

Sprinkle remaining 1 cup (250 mL) cheese evenly over top. Bake 25 - 30 minutes or until cheese is melted and top is lightly browned. Serve with additonal Hot Sauce, if desired.

7

Adapted from Recipe by Chef Albert Ngo, Delaware North Sportservice at Red Bull Arena.
Featured Recipes
Green Chile Chicken Enchiladas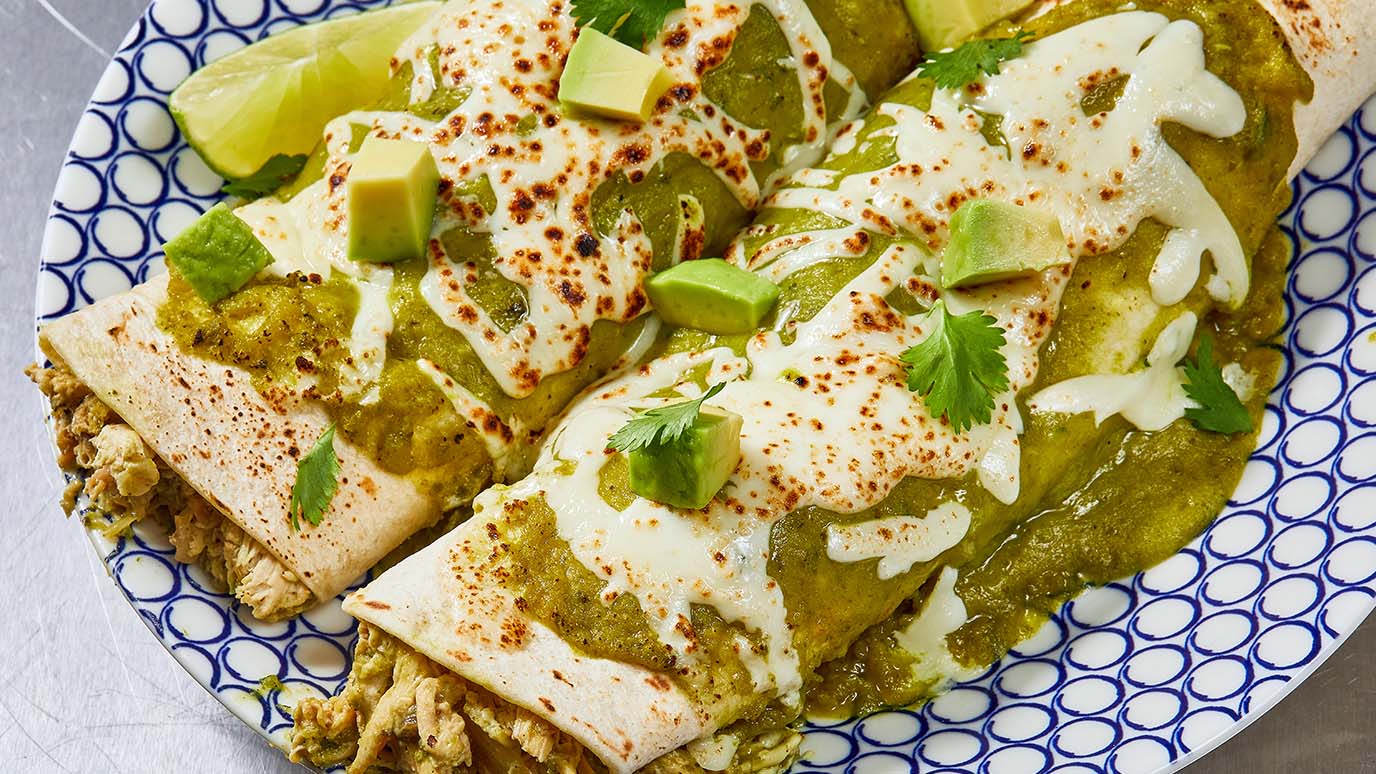 Green Chile Chicken Enchiladas
Beer-Braised Pork Tacos