From the smoky, spicy shredded chicken to the warm corn tortillas and tangy avocado lime crema, this tinga de pollo is about to change your world. Featuring both McCormick® Mayonnaise with Lime Juice and Cholula® Original Hot Sauce.
20_minutes
RecipePrepTime
15_minutes
RecipeCookTime
16
RecipeIngredientsCount
IngredientsList_Title
6
IngredientsList_Servings
Avocado Lime Crema
1 medium avocado, pitted and peeled
1/2 cup water
2 tablespoons fresh cilantro
1 tablespoon fresh lime juice
1/4 teaspoon salt
Tinga de Pollo Tacos
3 medium plum tomatoes, cored
1 whole chipotle pepper in adobo sauce
1/4 cup Cholula® Original Hot Sauce
1/2 teaspoon salt
1/2 teaspoon Lawry's® Casero Garlic Powder
1/2 teaspoon Lawry's® Casero Whole Oregano
2 tablespoons oil
1 medium white onion, thinly sliced
2 cups cooked chicken, shredded
6 corn tortillas, warmed
InstructionList
1

For the Avocado Lime Crema, place all ingredients in blender container or food processor. Cover. Blend on high until completely smooth, scraping sides as needed. Transfer to small bowl; refrigerate until ready to serve.

2

For the Tinga, place tomatoes, chipotle pepper, Cholula Hot Sauce, salt, garlic powder and oregano in blender. Cover and blend until smooth. Set aside.

3

Heat oil in medium saucepan on medium heat. Add onion; cook 5 minutes until softened. Stir in tomatoes and chicken. Cook and stir 10 minutes until thickened.

4

To assemble tacos, fill warmed tortillas with Tinga mixture and top with Avocado Lime Crema. Garnish with chopped white onion and cilantro, if desired.
Featured Recipes
Cholula® Chicken Quesadillas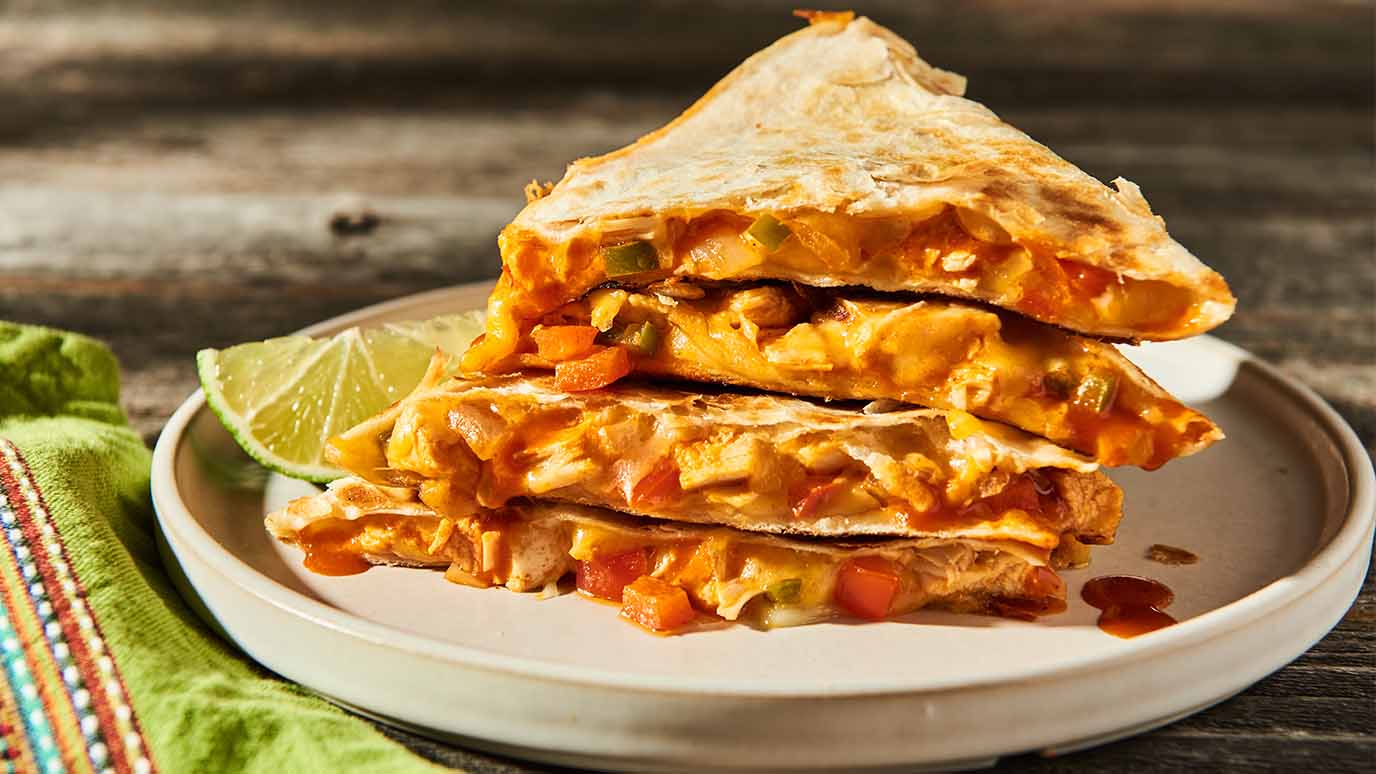 Cholula® Chicken Quesadillas